ATTENTION PERMIT HOLDERS!
The function of the iSportsman portal has been changed to accommodate our new Safety Briefing requirements. When you logon to your iSportsman account, you must watch the UXO & 2021-2022 Briefing videos to unlock the Permits for purchase.
You will find the videos listed under "My Safety Briefs" as shown in the image below.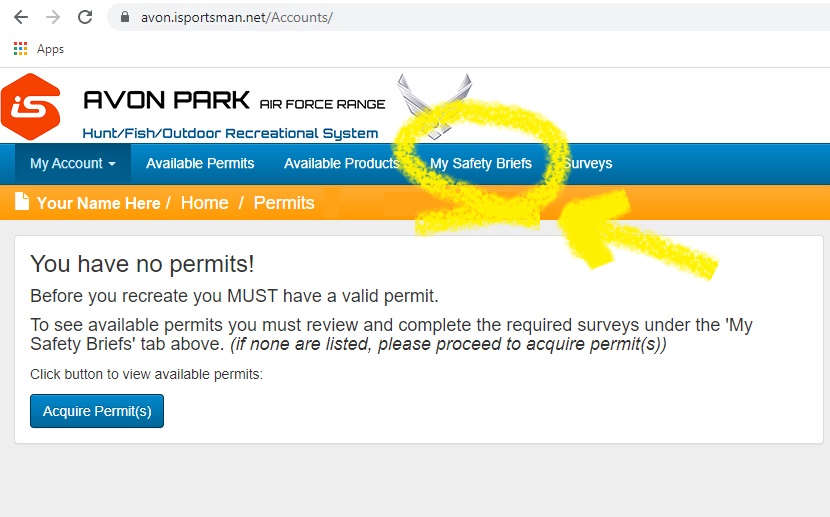 Once you complete the required briefings and successfully answer the Comprehension Questions, Permits will be unlocked for purchase. Be advised certain Permits (i.e. MRA Hunt Permits, Companion Permits, Discounted PRA Permits for Military Personnel) may require a VALIDATION from the Outdoor Recreation Office before they become available. If you do not see a Permit available that you wish to purchase, please contact the Outdoor Recreation Office at apafroutdoorrec@gmail.com and request a VALIDATION.
If you are new to the iSportsman portal, please refer to our User's Guide to iSportsman for more information.
_______________________
See below for a complete price list for all 2021-2022 Permits. Please note, references shown under the Permit name refer to sections in the PRA & MRA Regulation Summaries which will be emailed to you upon purchase of a Permit.
Please note MRA PERMITS are SOLD OUT as of Nov. 12, 2021. Active Duty and Retired Military are encouraged to buy the PRA Permit at their discounted rates. Make your iSportsman account then BEFORE PURCHASE send us an email requesting the correct validation so you will see the discounted rates. Thank You for your Service!
Permits for 2022 - 2023 Hunt Season will be on sale
in JUNE of 2022.